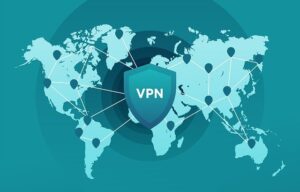 Protect yourself with a VPN connection.
You have probably seen a few movies in which the FBI is tracing an online hacker and it points him in locations all over the world like the US, Norway, Russia, and Singapore. This type of stealthy online presence is seen as Dark Web stuff but in fact, they are using a Virtual Private Network (VPN). These types of sneaky villains give the impression that they are extremely tech-savvy and are impossible to track. In one way they are but let's get back to reality, many Canadian companies use this same type of VPN technology to protect their online presence while out of the office. They do this because they have important information to secure… Just like you.
When you're traveling to new cities or just out and about for the day, at some point you are looking for that free fast Wi-Fi connection. Once connected you can do your work or just BS with your friends. The types of places that invite our dark web friends are really anything that offers free Wi-Fi like hotels, Malls, office towers, or maybe you are a coffee shop connoisseurs and just want to get away from the office and enjoy a cup of Joe. I want you to understand that there is a reason why this type of Internet is free. They are free because they spent very little on hardware and wireless gear. There is no protection and everyone is sharing the same link with you. There could be a laptop full of viruses or malware connected to the same network never mind that vicious hacker trying to take your banking information.
All Wi-Fi access outside of work or home may open you up to scams, hacks, viruses, and malicious software that attacks and steals your data. I have seen Wi-Fi names like "Lighting fast" or "faster", which can entice you to connect. Once connected everything seems normal, your emails are coming in and your web browser connects to google but at this point, every data packet can potentially be recorded and analyzed at a later date. They can get your banking data, and many other private passwords and keys without you know it. I am not trying to scare you to buy a product but I want you to understand that there are people trying to gather your data to steal your identity along with many other things.
Using a VPN will help prevent the monitoring of your web-browsing activities, intercepting your email messages, copying your uploaded data files, or even spying on your video conferences. Hiding your IP address using a VPN prevents data tracking from even your internet service provider. Everything else, including your web searches, downloads, Facebook, and Skype calls are protected by the VPN connection. This is the only way to protect your computer and data while you're out and about. I want to give you a visual, pretend a VPN connection is an armored pipeline back to your resources, it cannot be penetrated or hacked during your sessions. There are a lot of VPN providers out there but It is worth noting that while VPN service providers claim they don't track or record your online activities, you are dependent on them to abide by their promises of secrecy and anonymity. The risk of a privacy breach may increase if the VPN provider is located in a country with fewer privacy and surveillance laws. I would always recommend using a Canadian provider every day of the week because we have laws that protect you (CRTC).
I work with a lot of Accountants and I tell them if they travel, always connect using a VPN. The encryption and anonymity that a VPN provides helps protect your online activities and prevents hackers from accessing your laptop when you're out of the office.
We offer Month to Month services or buy your own they are not that expensive.